The 1987 New Orleans Saints Season Schedule
Regular Season
Sept 13
Browns
W 28-21
Sep 20
Eagles
L 17-27
Sep 27
*STRIKE*
*********
Oct 4
Rams
W 37-10
Oct 11
Cardinals
L 19-24
Oct 18
Bears
W 19-17
Oct 25
49ers
L 22-24
Nov 1
Falcons
W 38-0
Nov 8
Rams
W 31-14
Nov 15
49ers
W 26-24
Nov 22
Giants
W 23-14
Nov 29
Steelers
W 20-16
Dec 6
Buccaneers
W 44-34
Dec13
Oilers
W 24-10
Dec 20
Bengals
W 41-24
Dec 27
Packers
W 33-24
Wildcard Playoffs
Jan 3
Vikings
L 10-44
12 Wins 3 Loses 1 play-off loss
Coach: Jim Mora
First Round Pick: Shawn Knight
Defensive Lineman Brigham Young
The New Orleans Saints Are In The Playoffs!!
The 1987 New Orleans Saints season saw the first ever playoff appearance that resulted in a 44-10 blowout loss to the  Minnesota Vikings, but up until then, it was pretty fun. Saints fans were treated to the first ever winning season in Saints History. The Saints finest moment ever had to be the 9 game winning streak they had going into the playoffs. Some of the big games included the season opener against Cleveland where the Saints forced 2 safeties. A sweep of the Rams to the tune of 37-10 & 31-14. A 38-0 blowout of Atlanta. A 26-24 victory over the 49ers where Andersen kicked a 40 yarder with a minute to play. It was set up by a blocked San Francisco field goal attempt. And the come-back against Cincinnati where we scored the final 38 points for a 41-24 finish.
It was good while it lasted.
Now some stats
Rueben Mayes was second in the NFC in rushing with 917 yards on 243 carries, 5 Tds. Passing wise Hebert set a new team record
for QB ratings. He was 164 of 264 (55.8%0), 2119 yards, 15 tds. Eric Martin had 44 catches for 778 yards and 7 tds. Kicker Morten Andersen led the league in scoring with 121 points (37/37 XP and 28 of 36 Field Goals) while Mel Gray led the NFL in punt returns with 352 yards on 24 returns (one was for 80 yards) a 14.7 yard average.
The defense was ranked 4th in the league (and 3rd against the run). Vaughn Johnson led the team with 86 tackles. Dave Waymer
and Reggie Sutton each had 5 interceptions. (The Saints led the NFL with 30) Pat Swilling had 10.5 sacks while Ricky Jackson had 9.5. Dave Waymer and Sam Mills each made it it the Pro Bowl.
The 1987  New Orleans Saints Offensive Stats
The 1987 New Orleans Saints  Defensive Stats
The 1987 New Orleans Saints  Roster
---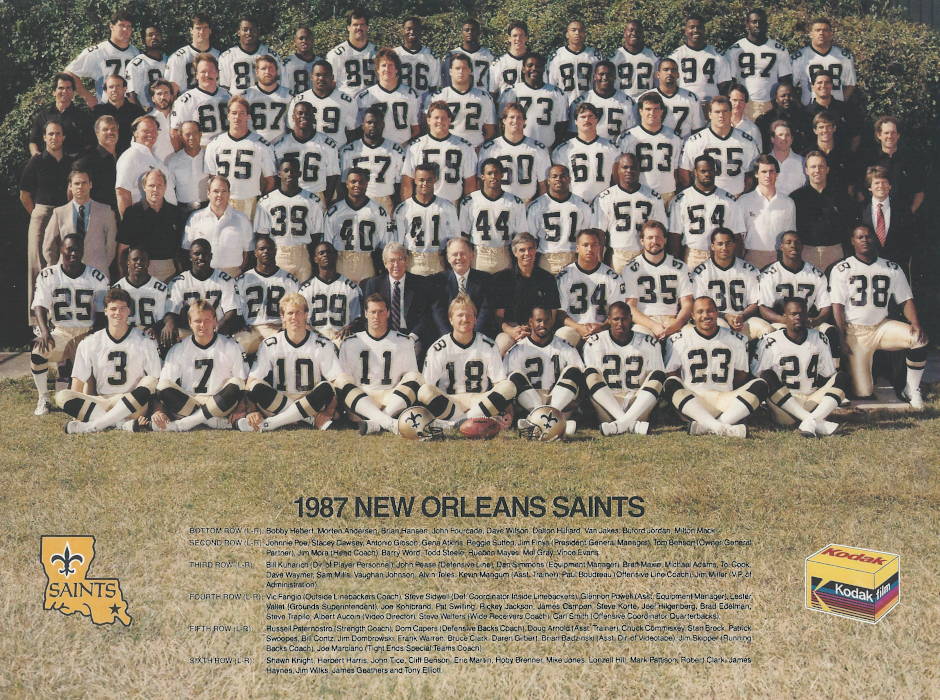 ---
Images from the 1987 New Orleans Saints Season