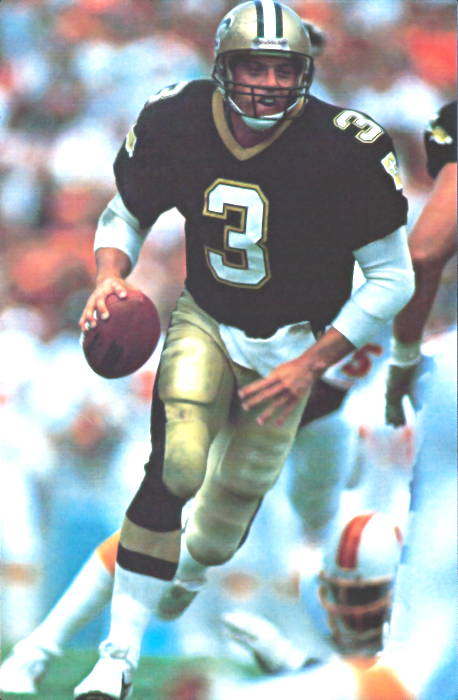 The Cajun Canon, Bobby Hebert joined the New Orleans Saints in 1985 and by 1987 was their starting quarterback. That was the season the Saints made their first ever trip to post-season. During the playoffs of 1991 and 1992 he was the offense's leader as well. And other than the 1990 season that he sat out, he was the primary signal caller for most of the late 80s and early 90s before he joined the Atlanta Falcons in 1993. All in all he started 75 games for the Saints during his 7-year career in New Orleans.
Below we have listed his Top 20 games with the Highest Quarterback Rating as a Saint. #1 on the list was the 1988 season's historical 42-0 blowout of the Denver Broncos where he completed 20 of 23 passes and hit 3 touchdowns. His QB Rating of 141.4% that game was his career best.
For those of you Who Dat History buffs check out the Top 10 Season Passer Ratings for Saints Quarterbacks.
Top 20 Bobby Hebert Highest Quarterback Rating Games as a New Orleans Saint
| Rank | Date | Opponent | Result | Comp | Att | Cmp% | Yards | TD | Int | Rate | Sacked | Y/A |
| --- | --- | --- | --- | --- | --- | --- | --- | --- | --- | --- | --- | --- |
| 1 | 11-20-1988 | DEN | W 42-0 | 20 | 23 | 86.96 | 194 | 3 | 0 | 141.4 | 1 | 8.43 |
| 2 | 10-18-1992 | PHO | W 30-21 | 19 | 26 | 73.08 | 355 | 3 | 1 | 137.5 | 1 | 13.65 |
| 3 | 10-22-1989 | RAM | W 40-21 | 15 | 22 | 68.18 | 276 | 3 | 1 | 131.6 | 1 | 12.55 |
| 4 | 12-6-1987 | TAM | W 44-34 | 16 | 24 | 66.67 | 255 | 2 | 0 | 129.7 | 1 | 10.63 |
| 5 | 12-13-1987 | HOU | W 24-10 | 15 | 27 | 55.56 | 254 | 3 | 0 | 124.6 | 3 | 9.41 |
| 6 | 12-13-1992 | RAM | W 37-14 | 15 | 25 | 60.00 | 238 | 2 | 0 | 118.4 | 0 | 9.52 |
| 7 | 10-15-1989 | NYJ | W 29-14 | 18 | 28 | 64.29 | 281 | 3 | 1 | 118.3 | 1 | 10.04 |
| 8 | 11-23-1992 | WAS | W 20-3 | 14 | 18 | 77.78 | 142 | 1 | 0 | 118.1 | 0 | 7.89 |
| 9 | 9-8-1991 | KAN | W 17-10 | 19 | 27 | 70.37 | 211 | 2 | 0 | 118.0 | 3 | 7.81 |
| 10 | 9-17-1989 | GNB | L 34-35 | 23 | 32 | 71.88 | 282 | 3 | 1 | 116.9 | 0 | 8.81 |
| 11 | 9-13-1992 | CHI | W 28-6 | 13 | 25 | 52.00 | 264 | 2 | 0 | 116.1 | 2 | 10.56 |
| 12 | 9-11-1988 | ATL | W 29-21 | 20 | 27 | 74.07 | 222 | 1 | 0 | 110.4 | 0 | 8.22 |
| 13 | 9-13-1987 | CLE | W 28-21 | 13 | 22 | 59.09 | 149 | 2 | 0 | 109.8 | 1 | 6.77 |
| 14 | 11-15-1992 | SFO | L 20-21 | 22 | 35 | 62.86 | 301 | 2 | 0 | 109.3 | 1 | 8.60 |
| 15 | 11-6-1988 | WAS | L 24-27 | 19 | 32 | 59.38 | 279 | 2 | 0 | 108.7 | 1 | 8.72 |
| 16 | 9-4-1988 | SFO | L 33-34 | 22 | 31 | 70.97 | 245 | 4 | 2 | 106.9 | 5 | 7.90 |
| 17 | 12-1-1985 | RAM | W 29-3 | 13 | 22 | 59.09 | 208 | 1 | 0 | 105.9 | 2 | 9.45 |
| 18 | 9-29-1991 | ATL | W 27-6 | 18 | 29 | 62.07 | 197 | 2 | 0 | 105.1 | 0 | 6.79 |
| 19 | 11-8-1987 | RAM | W 31-14 | 12 | 20 | 60.00 | 188 | 2 | 1 | 103.7 | 0 | 9.40 |
| 20 | 11-8-1992 | NWE | W 31-14 | 14 | 26 | 53.85 | 198 | 3 | 1 | 101.1 | 0 | 7.62 |
Please follow and like us: