Wes Chandler, the former 1st-round pick from Florida goes up to make the catch and score against the Houston Oilers in the 1981 preseason showdown in the Super Dome. Bum Phillips had just taken over as the New Orleans Saints head coach and there was plenty of excitement in the Big Easy. The Saints were moving on from one of the worst seasons in NFL history and better days were coming. But Chandler wouldn't be part of it though. He was traded to the San Diego Chargers a few weeks into the 1981 season. In San Diego he joined former Saint Chuck Muncie (Muncie had been traded the year before) in one of the NFL's top ranked offenses of the 1980s. Deemed Air Coryell after head coach Don Coryell, the Chargers were a pass-first offense where Chandler and Muncie fit right in. Teaming up with future Hall of Famers Dan Fouts, Kellen Winslow and Charlie Joiner they formed one of the most explosive teams of that period. As a Charger Chandler earned All-Pro honors in 1982 when he led the league in receiving yards and touchdown catches. All-in-all he made 4 Pro Bowls during his 11-year career (1 of those – as a Saint in 1979 was the first Saints receiver to make a Pro Bowl in 10 years).
While it's obvious his best seasons came while he was in San Diego, Chandler did spend his first 3 seasons with the Saints, and they were very productive seasons at that. When he left in 1981 – traded for the Chargers 1st pick of the 1982 draft – he was #3 on the New Orleans Saints All-Time Leading Receivers Career list.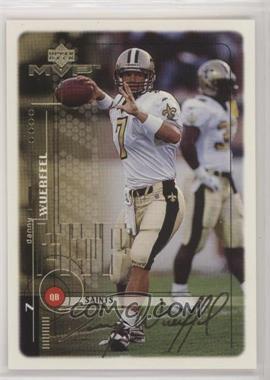 1999 Upper Deck MVP – [Base] – Gold Script #115 – Danny Wuerffel /100
Share Some Who Dat History!